Resource Sheet 3
The 'Braddon clause'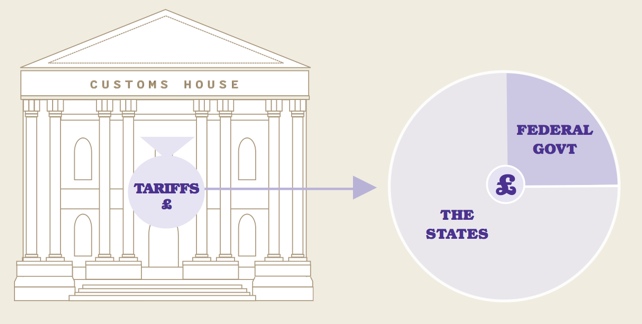 Raising small amounts of money
| | | | | |
| --- | --- | --- | --- | --- |
| The proposed Braddon clause would mean that if the new Federal Parliament collected… | £1 (20s) | £2 (40s) | £3 (60s) | £4 (80s) |
| …it could only keep one-quarter of the money it raised, which was… | 5s | 10s | 15s | £1 (20s) |
| …and the States would receive three- quarters raised of the money totalling… | 15s | 30s | 45s | £3 (60s) |
Raising large amounts of money
| | | | | |
| --- | --- | --- | --- | --- |
| The proposed Braddon clause would mean that if the new Federal Parliament collected… | £500,000 | £600,000 | £700,000 | £800,000 |
| …it could only keep one-quarter of the money it raised, which was… | £125,000 | £150,000 | £175,000 | £200,000 |
| …and the States would receive three- quarters raised of the money totalling… | £375,000 | £450,000 | £525,000 | £600,000 |
Extracts of speech by Premier George Reid at the Sydney Town Hall, 28 March 1898
I want to call your attention to an amendment made by Sir Edward Braddon at the very last moment almost in the history of the Convention… the Treasurers of Victoria, Tasmania, and South Australia… cannot put any more taxation on their people as State governments… [They would be] thrown into financial distress if they did not get back the amount which they have given up… Sir Edward Braddon's amendment has put in the constitution for all time this extraordinary provision… for every £1 raised through the Customs-house 15s must go back to the State… the Commonwealth Treasurer, if he resorted to the customs at all, would have to raise £800,000 to get the £200,000 he needed. Of course, the other £600,000 would come back to the States, but would it ever get back to you? (Laughter.) That is a grave blemish in this bill…
So far as I am concerned, with all the criticisms I have levelled at this bill, with all the fears I have for the future, I feel I cannot become a deserter from the cause of federation. (Loud and prolonged cheers.) I cannot take up this bill with enthusiasm. (Hear, hear.) I see serious blots in it which have put a severe strain upon me&hrllip; I consider my duty to Australia demands me to record a vote in favour of the bill.
The Sydney Morning Herald, 29 March 1898.
'The yes–no Federationist'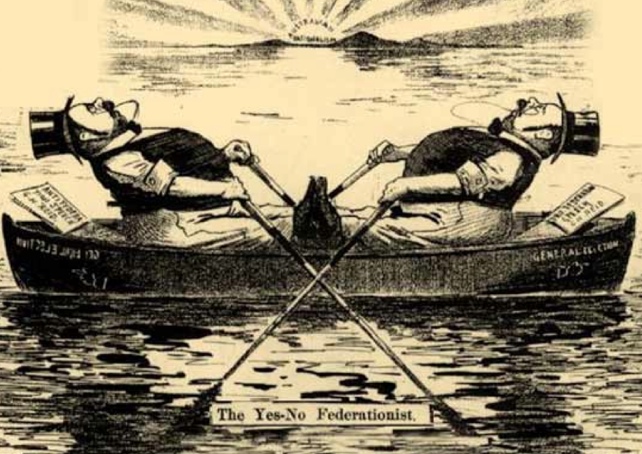 The Bulletin, 30 July 1898, National Library of Australia.