Resource Sheet 3
The 'Braddon clause'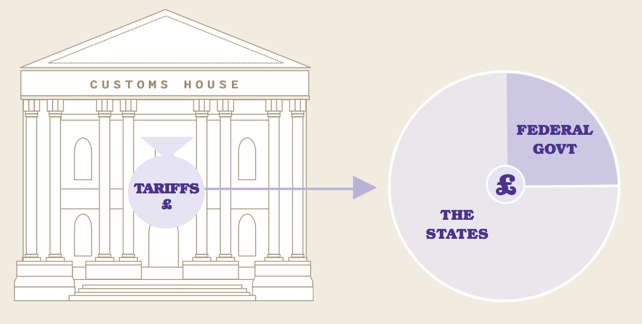 Raising small amounts of money
| | | | | |
| --- | --- | --- | --- | --- |
| The proposed Braddon clause would mean that if the new Federal Parliament collected… | £1 (20s) | £2 (40s) | £3 (60s) | £4 (80s) |
| …it could only keep one-quarter of the money it raised, which was… | 5s | 10s | 15s | £1 (20s) |
| …and the States would receive three- quarters raised of the money totalling… | 15s | 30s | 45s | £3 (60s) |
Raising large amounts of money
| | | | | |
| --- | --- | --- | --- | --- |
| The proposed Braddon clause would mean that if the new Federal Parliament collected… | £500,000 | £600,000 | £700,000 | £800,000 |
| …it could only keep one-quarter of the money it raised, which was… | £125,000 | £150,000 | £175,000 | £200,000 |
| …and the States would receive three- quarters raised of the money totalling… | £375,000 | £450,000 | £525,000 | £600,000 |
Extract of a report by Tasmanian government statistician, Robert Mackenzie Johnston
Tasmania… would require to double her existing Land and Income Tax—an impossibility—to enable her Treasurer to discharge her remaining State obligations and functions… Tasmania…cannot possibly double her already overburdened Land and Income Tax, her only resource; …the finance proposals of the…Convention Draft Bill are simply impossible!
RM Johnston, Federal Finance. Observations on the Difficulties of the Problem, with an enquiry into Their Underlying Causes, Hobart, 1897, pp 27–28.
Extracts of speech by New South Wales premier, George Reid at the Sydney Town Hall, 28 March 1898
I want to call your attention to an amendment made by Sir Edward Braddon at the very last moment almost in the history of the Convention… Sir Edward Braddon's amendment has put in the constitution for all time this extraordinary provision… that for every £1 raised through the Customs-house 15s must go back to the State… the Commonwealth Treasurer, if he resorted to the customs at all, would have to raise £800,000 to get the £200,000 he needed. Of course the other £600,000 would come back to the States, but would it ever get back to you? (Laughter) That is a grave blemish in this bill.
The Sydney Morning Herald, 29 March 1898.